America's farming landscape exploded in the late '60s, and drove the demand for more capable equipment. Every tractor manufacturer in the country was scrambling to build bigger, heavier-duty machines. Farmers needed tractors that could efficiently hustle through heavy tillage with a 7 or 8-bottom plow…and they didn't want to have their eardrums blown out in the process. In short, they needed innovation in machinery to support the continuing innovation of modern farming practices.
The customer had spoken, and the folks in Charles City listened.
The result was the Oliver 2150, released in 1968. It was the big horse in the 50-series lineup, and it had all the right stuff, too. Big power and torque from a turbocharged Hercules 478, an 18-speed Hydraul-Shift transmission, and a beefy, overbuilt chassis so operators didn't lose traction in the field! The icing on the cake? According to Oliver, these new tractors were "whisper quiet"! (Whether they were or not is up for debate; I mean, after testing a 1950 with a 2-stroke Detroit, I'm pretty sure everybody who worked for Oliver was in the process of going deaf by then, right?) ?
The Oliver 2150 was only in production for parts of two years (14 months if we're being picky), but it led the horsepower race for both of 'em! They didn't make a ton of these tractors, either; finding one is fairly rare.
Here's how the numbers break out for the 2150's total production (Oliver models and Cockshutt).
Total built: 1018 (373 FWA)
887 Oliver
19 Oliver/White 4-144 (and 4-144 Extra Heavy Duty variants)
112 Cockshutt
This is definitely one of the rarer Olivers out there, but for quite a while the 2150 has flown under the collector crowd's radar. It's picked up a little over the past few years, but I think this one could still be purchased fairly reasonably (as you'll see when you look at the listing, it'll need some TLC). Underneath the surface rust and broken glass, though, there's lots of potential! I'll be excited to see what happens with this tractor!
The auction doesn't happen until September 12, but the online bidding is live right now. Thus far the bidding sits at a whopping $55. I doubt it'll stay that way for long, though.
If you're bidding on it, good luck! If you end up buying it, drop me a line!
There have been a couple of fairly notable Oliver 2150 tractors that have been featured on Tractor Zoom over the past year or two. Here are a few photos.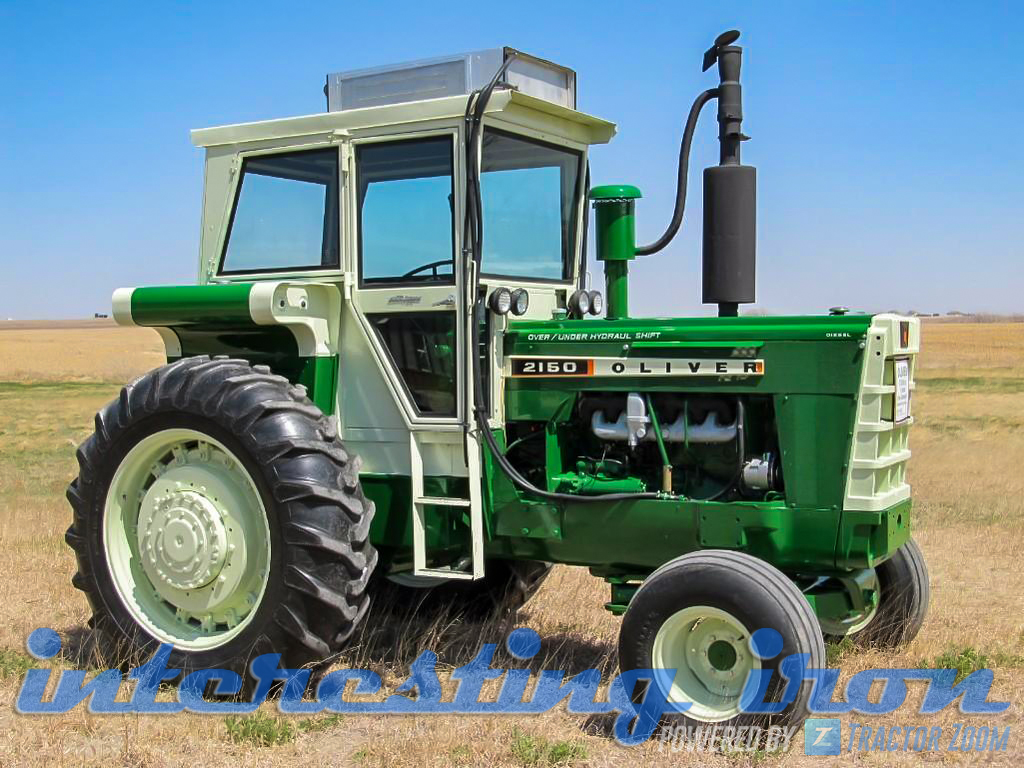 Finally, here are a couple of Oliver 2150 ads that I've found here and there. Evidently, Oliver definitely wasn't shy about what their horse was capable of!
*Shoutout to my good friends Sherry Schaefer and the team over at Oliver Heritage magazine for a little help on the production numbers breakdown. If you're a fan of Tractor Zoom's Interesting Iron, you'll love Oliver Heritage! Give 'em a shout!
Latest posts by Ryan Roossinck (see all)