Ah, the John Deere 6030. My very favorite Deere of all time. If anything wearing green and yellow paint ever screamed "Muscle Tractor" louder than the 6030, I haven't seen it yet. I've been waiting for a really nice example to write about, and this one happens to be fairly close to me, too!
The History of the John Deere 6030
Introduced in late 1971, the John Deere 6030 was essentially the final evolution of the 5010/5020 series tractors. They were both good enough tractors, but they seemed clumsy and heavy, like they couldn't really get out of their own way. When the 6030 came out, that clumsy image of Deere's "big" tractors went away pretty quickly.
What was the secret sauce? The motor. The 531 big block, in its most powerful naturally aspirated form, only turned out about 140 horse. While that was probably acceptable for the early sixties, it didn't fly in the horsepower wars of the early 70s. To address the demand, a turbocharged 531 was introduced in the 6030 and boy, that made a big difference! Where the naturally aspirated motor made 140 horse, the turbocharged model was rated at about 175!
In 1972, Deere did offer a naturally aspirated version of the 6030 that made the same 140 horse that the 5020 made. Almost nobody bought them. A total of 45 naturally aspirated 6030s were ordered before they came to their senses and pulled the option off of the order forms in 1973. I can't remember the last time I saw one of them sell at an auction. They're rare animals for sure.
Don't worry about the mule…just load the wagon!
The John Deere 6030 sold very well over its five-year production run. Word traveled pretty fast that the big brute was not only pretty light on its feet, but it was WAAAAAY underrated from the factory. The Nebraska test showed about 176 on the PTO, but if I had to guess, the test mule was probably set up for fuel economy – not horsepower. Legend has it that most of the 6030s that rolled off the assembly line in Waterloo made well north of 200 horse, which would definitely make them a little on the thirsty side. Heck, I've heard stories about dealer demo tractors that turned close to 250 horse on the dyno!
Deere took no prisoners when it came to the 6030. At the end of the day, it was the biggest, baddest 2WD to ever roll off of the assembly line in Waterloo, and there wasn't much it couldn't do. But (there's always a but, isn't there?) when you sell a farmer a tractor that you claim will do anything they want it to do, inevitably farmers are going to say, "Well…let's see what this ol' girl can do!" The weak link, if there was one, was the axles. When word got out that these were overbuilt monsters out in the field, farmers started piling the weights and pulling heavier and heavier implements. Under super-heavy loads, the axle would flex enough to snap. Deere solved this towards the end of the model run by up-sizing the axle a little bit to 4″.
There was another issue, too; this time, with the motor. See, once in a while, the 531 wouldn't like a heavy load, either. When the big block was under too much load, it did what heavily loaded motors tend to do…spin bearings. Because of that, it's not uncommon to find a 6030 with a replacement motor in it. The motor of choice was typically the 619, introduced with the 8630 in 1975. It was essentially a direct bolt-in motor, and upped the power to 275! Talk about a muscle tractor!
Details on THIS 6030
Late last week, I had the opportunity to grab lunch with Jake Rice (Rice Auction Co. – Clearfield, IA), a good friend of mine and the auctioneer who's handling this sale. This is a GORGEOUS 6030, folks. It's a late 1974 model with about 7700 original hours. The motor is original to the tractor as well. It's sporting nearly new rubber all the way around (20.8-38s on the back, and 11-16s in the front) as well as fresh paint. The seller purchased this tractor out of Brad Walk's collection about 7 years ago.
That last part is important…
Who's Brad Walk and why is that important?
Well, there are "6030 guys"…and then there's Brad. Brad Walk is a collector and restorer ( My6030 ) who lives about an hour south of Champaign, IL. Brad has earned the reputation as "the go-to guy" for any and all things related to the John Deere 6030. If you need parts, he's your guy. If you need one restored, he's your guy. Or, if you want one with a built 619 with a bumpin' custom stereo wearing floaters, Brad's your guy. He'll basically build anything you like! His collection is very cool, too; among many other tractors, he's got the first 6030 (serial number 33000) ever built, and the last NA 6030 to be sold here in the States! Number 33000 took nearly two years to restore!
What's it worth?
The John Deere 6030 is one of those tractors that seems to go up and down in cycles. Five years ago, you probably could have bought one in pretty good shape for $16-17K, but over the years the average prices of these tractors have gone up by about $5K. But those are for your average tractor. This one isn't average by a long shot.
When the hammer drops next Thursday (December 16, 2020), I'm pretty sure the bid is going to be somewhere in the $30-32K range. It's a beautiful tractor, sits just right, and for a John Deere collector (or a muscle tractor collector), this one will tick off pretty much every box on the checklist!
The Ultimate Versions of the Ultimate Muscle Tractor: Custom One-Offs
One of the reasons that I have a thing for 6030s is because they're unique. With only 4042 of them produced, they're not all that common. I don't remember ever seeing a 6030 on a farm as a kid growing up in West Michigan, so I sort of looked at them as unicorns.
Well, there's a handful of guys in the midwest who have taken that unicorn concept to another level, essentially building their own versions of the ultimate muscle tractor. Here are a few that stand out in my mind.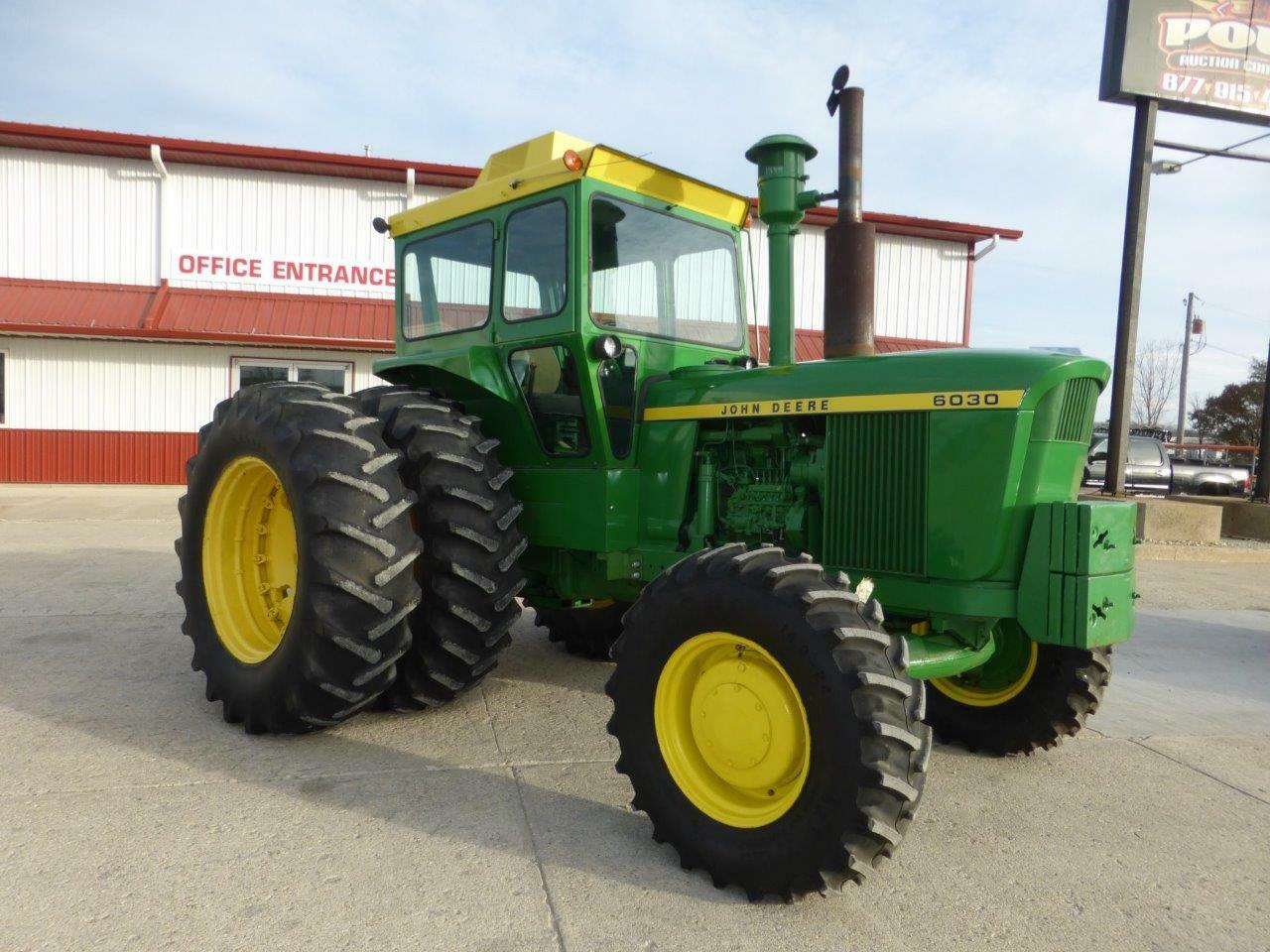 The Tractor Pulling Connection
Another reason I really love the 6030 is because so many pulling tractors wear 6030 sheet metal. It seems like nearly every pulling class across the country has a handful of 'em, and since I shoot so much pulling every year, I tend to see a lot of them. Here are a few 6030s that I've shot over the past 10 years.
So that's the wrapup on the John Deere 6030, and why I think it's the coolest tractor to wear green and yellow paint! Go bid on this one on Jake Rice's sale so I'm not tempted to start spending money I don't need to be spending! ?
Final Hammer Price: $36000 (3rd highest price this year!)