Every once in a while, a personalized tractor shows up on Tractor Zoom and it's always good for some social media mileage. Most of the time people have pretty polarizing opinions, and because it's social media…they aren't afraid to share them. Sometimes it'll spark some reasonable discussion, sometimes not.
Obviously, this little CO-OP E-4 is a personalized tractor. More on all that in a minute.
The CO-OP/Cockshutt Connection
First, let's look at this week's Interesting Iron. CO-OP tractors (and Cockshutt, the company that built them) are neat tractors and the way they came together is pretty interesting.
Rather than start at the beginning and tell the story of where the CO-OP brand came from, we're going to pick it up in the late 40s. If you want the full story (that goes back almost to the Civil War), there's a pretty detailed account of it all here. Basically, the brand was an offshoot of the Farmer's Union, and organization dedicated to helping farmers get ahead. Among other things, they marketed lines of implements and tractors (from other manufacturers) under the CO-OP brand.
At any rate, they hooked up with a Canadian company (Cockshutt) in 1946. Cockshutt had a good short line at the time and they were in the progress of launching their own tractor line – one that they desperately wanted to sell in the States. Putting the deal together with CO-OP was a win/win for everybody.
The Cockshutt Model 20/30/40/50 & the CO-OP Variants
Cockshutt launched the 30 in 1946. It was a small rowcrop tractor that made about 30 horse from a four-cylinder Buda engine. At the same time, they sent the CO-OP E-3 to the states to launch at the same time. The two tractors were absolutely identical, save for the paint and the decals. They were well-built, and featured an industry first – a live PTO. As a result, they sold really well.
Three years later, they launched the Cockshutt 40 and CO-OP E-4, smaller 20 and E-2, and the bigger 50 and E-5. Just like the first tractor, they sold very well. Production lasted up until about 1957(ish) before an investor's group bought Cockshutt and took them in a different direction.
The success of those tractors was largely due to the fact that they're fairly simple in design. Aside from the live PTO, there wasn't anything massively new or high-tech about these tractors. They were reliable and pretty easy to work on when you had to. Who doesn't love that combo?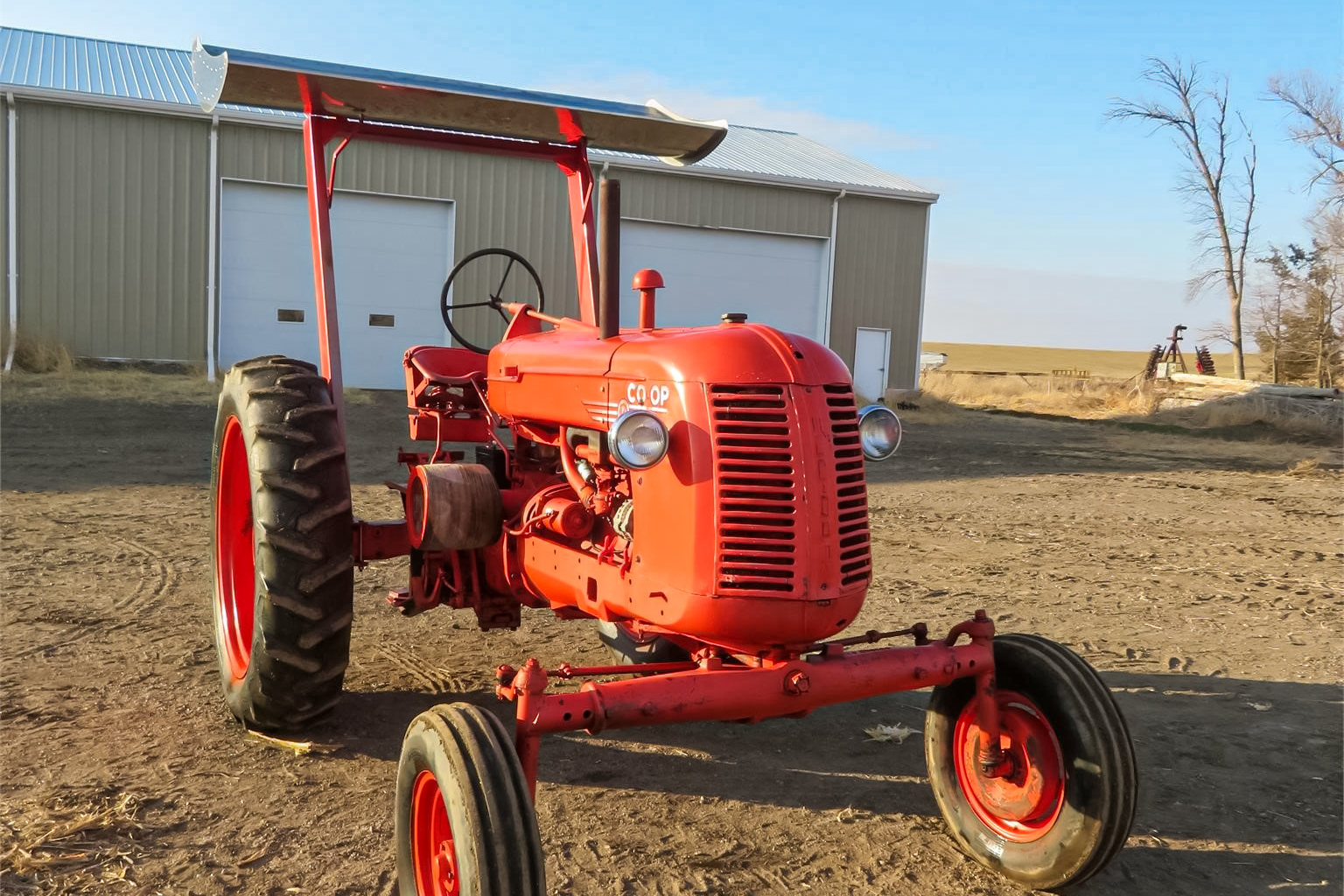 The "Personalized" CO-OP from Nebraska
This CO-OP E-4 lives in Winside, NE, about an hour or two north of Omaha, and our friends at CHJ Auctioneers & Appraisers are selling this one at auction on February 5, 2021. Overall, it's in good shape; it's not perfect, but fundamentally it's a great example of a neat piece of history.
Now…let's address the elephant in the room…
This little orange tractor has a ginormous wing on it. Why? I really don't know. Everybody's got their thing. Maybe the owner is a big NHRA top fuel fan or something.
I'm not passing any judgment. To each their own.
How personalizing will effect value
From where I'm sitting, there's three categories of personalizing, and they'll all effect value a little differently. Here's how I break it down.
Bolt-ons: If you wire up a light bar on top of the cab or add an aftermarket autosteer or something to make the tractor more efficient, that's all completely reversible. That stuff can all be removed fairly easily, in most cases.


Case in point: Ag Leader's new SteadySteer product is completely reversible. When this video was finished, everything you see here was unclamped from the 4760's steering column and it was like nothing was ever there.At the end of the day, even if you were to sell it or trade it in, it really shouldn't effect the value of the machine in a negative way.

Paint/Decals/Doodads: If you repaint a tractor back to factory spec, this doesn't really apply to you (even if it's a collector tractor in most cases). However, if you decide you're going to re-paint your 1468 and put Case International decals on it, it will hurt the resale value of the tractor.

This 1468 has a pretty non-traditional paint job and Case International decals on it. Unfortunately, buyers didn't take to it when it sold at auction. Hammering home for only $13K, it sold for a fair bit less than the average 1468.

Typically, you'd have to pay at least $20K for even a well-used example, and closer to $30K for a nice one or a survivor. If it's going to take extensive work to return a tractor back to stock-appearing, buyers will reel in their bids. Even for rare collector tractors!

Here's another example of a mod that was too much for buyers to stomach. Our Iron Comps average on 8Ns is just over $1400. This one sold for $830 (and it was mechanically sound).

Structural Modifications: If you start cutting sheet metal, there's a good chance that you're going to see a pretty sharp decline in the value. Chopping up a tractor means that if a bidder wants to bring it back to stock appearing or stock functionality, he's going to need to source parts – and there are no guarantees that they'll be available.

I tried to find any mention of an aftermarket 4010 conversion kit and I can't find one anywhere.

For this 4010 that was flipped around backwards to make a forklift (I don't think there was a kit for this – if so, reach out to me), it was like pulling teeth to sell it. When the hammer fell, it went home with somebody for $1300. Iron Comps says the average price of a 4010 at auction these days is $5563. Ouch.
At the end of the day, I don't think this little CO-OP E-4 will suffer too much as far as value goes. Based on comparable sales results in Iron Comps, I'd imagine this tractor will get close to $2000. That giant shopping cart handle is attached using about 8 bolts, so it shouldn't take more than 10 minutes to remove it – including stashing it in the shed somewhere!