A Deere painted blue? For real?
Yep. When Mother Deere set her sights on the 'burbs in the late 60s with their line of garden tractors, you could buy a 110, 112, 120, or 140 in the traditional green and yellow, or in any of 4 different special colors. It was a marketing ploy that only lasted for a couple of years because they didn't sell very well. To collectors right now, they're pretty hot!
They were actually called the Custom Color series, but these days everybody just calls them The Patio Series tractors. They were mechanically identical to their green counterparts, but they were painted Dogwood White from the factory (sans hood), and the customer was given the choice of matching hood and seat. Available colors were Patio Red, Sunset Orange, Spruce Blue, and April Yellow.
The advertising for the Patio Series was interesting. Deere played with different concepts appealing to upper middle class life like letting your wife pick out her favorite color (I'm not touching that with a ten foot pole…) or matching the color of your mower to the color of your boat/car/lawn furniture. Obviously, it didn't work because they didn't sell a ton of them, but I will say that the Spruce Blue bears a reasonably close resemblance to Mulsanne Blue (one of the more popular colors for the Camaro).
This Spruce Blue 112 lives in Reedsburg, WI for now, but I'm pretty sure that there'll be a lot of action on the bidding before it's all said and done. A buddy of mine who's knowledgeable on these tractors is pretty sure it's all-original, and the Spruce Blue is one of the rarer of the colors (the rarest is April Yellow). It'll be fun to see where the bidding ends up on this one! While it's by no means "comprehensive" in Patio Series tractor auction results, our Iron Comps Insights data suggests that it'll sell for somewhere in the $1000-1200 neighborhood.
By the way, the folks at Green Magazine published a great article about the history of the Patio Series tractors. Read it here!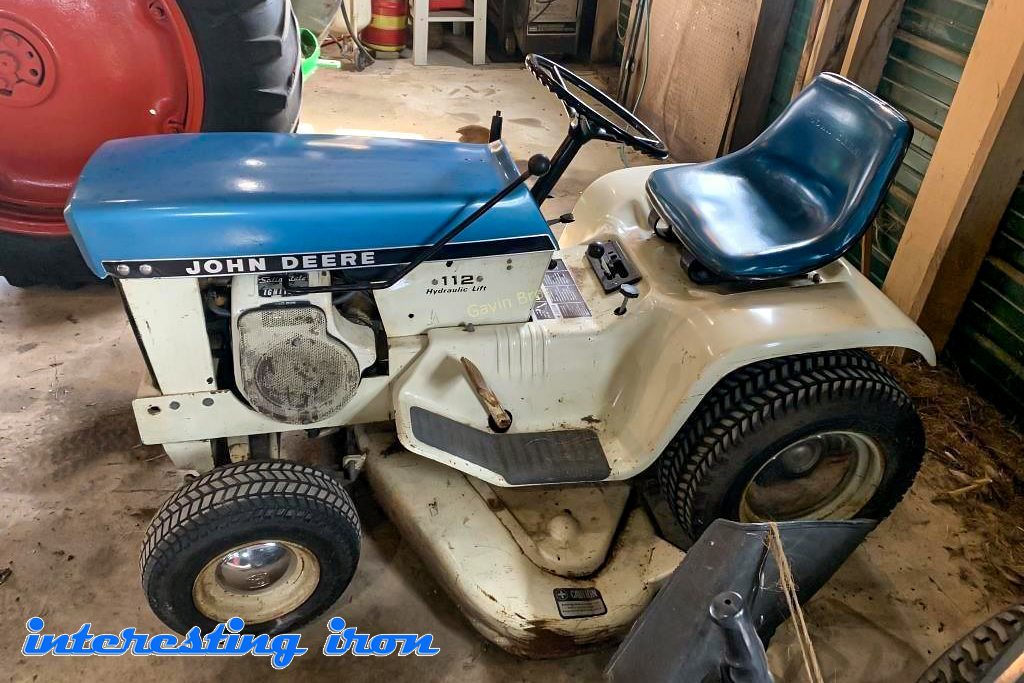 Pro Tip:
If you're shopping for a Patio Series tractor, try to find one with an original seat in decent shape. Unfortunately, there aren't many NOS seats available these days, and as far as I know, nobody makes a reproduction. Consequently, when NOS originals show up on eBay, the bidding quickly goes bonkers!
Latest posts by Ryan Roossinck (see all)