There's something about the proportions of the IH 1256 Wheatland that just looks "right" to me. I'm pretty sure it has something to do with the curvy wide fenders that I really love. Since this auction has gone live, I've had a few people ask me what I would choose to own if I could only have one tractor out of Jerry Mez's Farmall Land collection.
The answer?
This one. Man, I love this 1256.
IH was riding high on a wave of popularity with the 1206 that they'd released a few years previous. They'd been extraordinarily good sellers, and IH wanted to keep the momentum rolling into the future. So, in 1967, they released the 1256. The list of improvements wasn't super-long, but it there was one pretty noteworthy item.
The most major improvement was to the motor. The power rating went up by 4 horsepower. That might not seem like much,  but when coupled with the increase in cubic inches in the motor (361 in the 12-oh vs. 407 in the 1256), that was a pretty big deal. The bigger DT407 motor had more grunt in the low end. At the end of the day, that meant that the 1256 would be more likely to power through when the going got tough. In contrast, when running a 1206 in the same ground, you'd have probably found yourself pulling the T/A to get through it. IHC's engineers set out to provide more useful power, and they accomplished that goal quite nicely!
Overall, the 1256 sold well. IH produced 7125 of them in total (including the Farmall-branded models) between 1967-1969. Jerry's tractor is an early 1967 model, and it's been very nicely restored. It's a true Wheatland as far as I can tell, although there were a bunch of different option packages on these tractors. This one does have a T/A, a PTO, and 2 Hydraulic lines out the back, but no 3-point hitch. Collectors will argue until the cows come home about whether or not that's a "true" Wheatland model, but I'm with Jerry on this one. He says it's a Wheatland. I do too.
So why did I call this one "The Cover Girl"? Well, that's because I'm not the only one with an affinity for this tractor. This exact tractor was Lee Klancher's pick for the cover photo of the latest edition of Octane Press's Red Tractors book! (Lee is an incredibly talented photographer and author. The things that guy can do with a camera will blow your mind! The Red Tractors series of books were/are his brainchild, and if you don't already have 'em, you need to put them on your list.)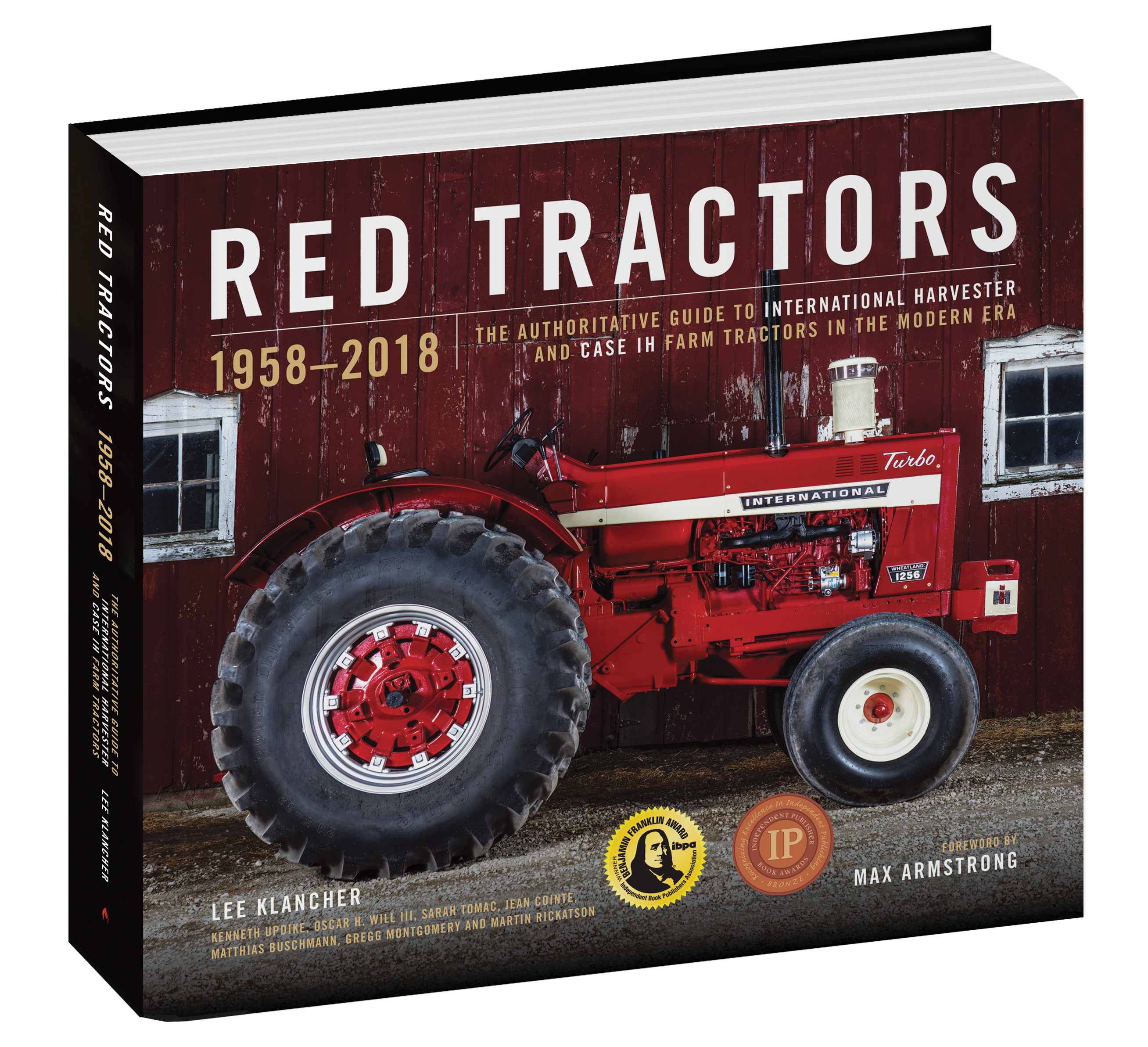 My friend Ken Girard at Girard Auctions is handling Jerry & Joyce's auctions, and thus far, the response has been pretty good on this tractor. Bidding currently sits at about $6,000 but that won't stay that way for long. The auction doesn't close until November 9, and my guess is that we'll go north of $20K by the time the hammer drops.
Side story: There's one particular 1256 that's not quite like the rest of 'em, and my friends at Heritage Iron spent some time talking with the man who made it a little different. Jon Kinzenbaw, the man who repowered all of those John Deeres with Detroits? Well, he only did ONE red one like that…a 1256 that was originally from mid-Missouri. Here's the video…
Now, before all of you purists start sending me (or Sherry) any hate mail about wrecking a perfectly good 1256 with a loud, obnoxious Detroit…this one wasn't a perfectly good one when Jon got his hands on it. As I understand it, the tractor had been burned in a fire and it was destined to be melted down for scrap. For lack of a better term, he resurrected it! Pretty cool! Makes 238 horse on the dyno, too!
BTW, if you're looking for a more complete history on the 1256, Heritage Iron had one in issue #31. I believe is still available as either a back issue or a reprint!
Latest posts by Ryan Roossinck (see all)