Date: Wednesday, August 25, 2021 – 9AM CDT
Location: Chat's Tractors – 5117 E County Rd. 17, Avon, IL 61415
Auction Format: Online & Onsite bidding – Online bidding open now!
Auctioneer: Kyle Kelso
About an hour west of Peoria on County Road 17, you'll find a patch of ground that's been owned and farmed by the same family for 183 years. And in one of the outbuildings, you'll usually find Dick Chatterton and his brother Bob wrenching on old tractors. This is the home of Chat's Tractors.
For 30 years or more, the Chatterton brothers have built, collected, and restored the tractors they remembered growing up in the 50s. They primarily specialize in Farmall and Allis Chalmers, but every now and again they'll fix up a two-cylinder Deere or the occasional Oliver as well.
It's been a good run, too. Chat's Tractors has sold tractors to buyers all over the globe. Most of the customers have been here in the Midwest, but they've also sold tractors to buyers in Europe, too! Furthermore, in 2012, they donated a 460, a 560, a CAT D2 crawler, and a few implements to an orphanage in Nigeria! The orphanage used them to tend to the land and grow a few crops to help sustain the village.
Calling it a career…
The Chatterton brothers have really enjoyed the rescue and restoration work, but as they're both getting on in years, they've decided to retire. There are lots of grandkids to have fun with, and that doesn't leave a lot of time for tractors!
Dick & Bob are each keeping a few pieces that are special to them, but even after keeping a few, this is a pretty big sale! Nearly 40 tractors will go home with new owners! They're not all brand new restorations, but there's a nice mix of older restorations, newer ones, and unique tractors on this sale!
For those of you heading out to Rantoul for the Half Century of Progress show, it's not terribly far out of your way if you're coming on 74! Our friend Kyle Kelso will kick things off at about 9AM!
Most of the tractors on the sale have been restored by the Chatterton brothers over the years, but there are a couple in the collection that came from elsewhere. Here's a couple of those.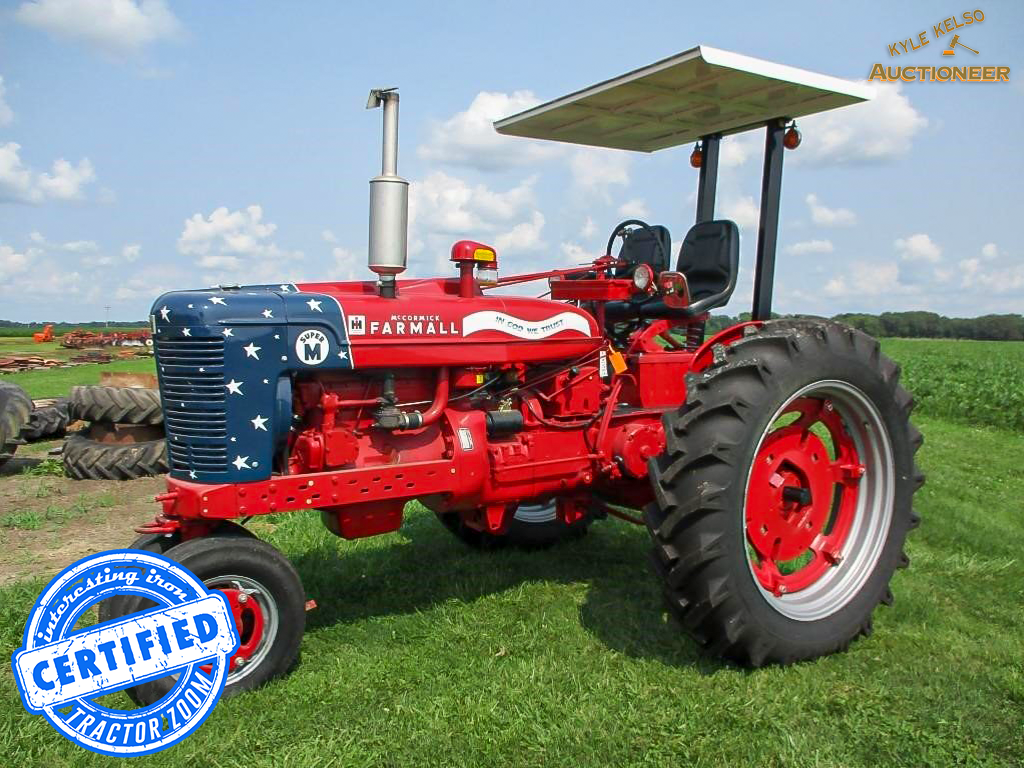 The Super B-TA fantasy tractor…
Of all of the neat stuff in this sale, though, this one was the one that really caught my attention. They call it a Super B-TA – something of a fantasy name, as Farmall never made one. It's a neat little custom that they found quite a few years ago at a shop near Keokuk, IA. Apparently the guy wanted something unique for his kids to tootle around on the farm with. Apparently the kids either outgrew it or didn't really take to it. So, Bob made the guy an offer, and ended up taking it home to Chat's Tractors!
I really don't know what it's built on as far as a chassis goes – maybe a chopped Farmall H or an M? Either way, it's got a 5-speed transmission and a TA lever that I'm not sure is functional. The powerplant is a single-cylinder Wisconsin gas motor with an electric start. Dick told me that it only does about 5 miles an hour in road gear, so it's definitely not a tractor ride candidate!
The stubby, almost cartoonish appearance of this tractor has made it a favorite on the internet over the past fifteen years. There have been LOTS of arguments about this tractor and whether or not it could've ever come from Farmall and what's in it, etc. Now's your chance to buy it and find out!
Date: Wednesday, August 25, 2021 – 9AM CDT
Location: Chat's Tractors – 5117 E County Rd. 17, Avon, IL 61415
Auction Format: Online & Onsite bidding – Online bidding open now!
Auctioneer: Kyle Kelso
Latest posts by Ryan Roossinck (see all)