"Ryan, you must see interesting equipment auctions all the time. What's the coolest stuff you've ever seen on Tractor Zoom?"
I get this question all the time, and we DO see some pretty interesting equipment auctions every week. In fact, I write a fun weekly email about that; it's called Interesting Iron, and you can sign up for it here!
Auctioneers from all over the country have sent some very cool farm equipment home to new owners this year. Here's a list of a few of my favorites, in no particular order!
My Favorites
1. Snoopy
International Harvester 6788 – Serial number 1 of only 347 made! My friends at DPA Auctions sold this International 2+2 (or Snoopy, or Anteater – whatever nickname you prefer to call it) back on September 11 at an online consignment sale (the tractor lived in Kansas). It was VERY clean and well-maintained and there was some lively tractor nerd discussion on social media about why this one appeared to have the paint scheme of a 3788 as opposed to the new series! We never did reach a consensus, either. I even reached out to Ken Updike, a former IHC employee and noted IH historian, about it, and he couldn't figure it out either! Here's a photo of this super-clean Anteater!
This clean tractor sold for $28,000, which was the second-highest price in the past five years! (Fun fact – This exact same tractor set the record for the highest price when it sold at an auction in Topeka, KS in March of 2016. It sold for $35,000!
2. The John Deere 8N…wait, what?
Every now and again farm machinery auctions comes across my desk that just make my head hurt. Back in June, this one was the headache-maker. When one of our Auction Success guys sent it over to me, I sat there staring at it trying to figure out what on Earth would possess someone to dress up an 8N like a Deere…so I called the auctioneer and asked him!
Turns out that the owner was a hard core Deere guy, and he used his tractor to move boats around at his resort in northern MN. The hand clutch setup on a 2-cylinder Deere wasn't going to work very well. So what do you do if you're a Deere guy who has an 8N to move boats? You paint your 8N John Deere green and you decal it up right and you do your thing! Props to you, buddy! Good for you for gettin' the job done!
When the Bid-2-Buy auction closed on June 19, 2019, it didn't sell for very much – only $830, which to me proves that it doesn't have to be spendy to be interesting! This tractor is a testament to brand loyalty if there ever was one. Anybody who'll willingly repaint a perfectly good Ford to look like a Deere…that's next-level loyalty right there.
3. The Muscle Tractor with the Achilles Heel…
Ah, the 68-series tractors. Some of the greatest looking tractors ever made…coupled with a fragile motor that was only good at one thing; making cool noises. The DV-550 growls really nicely, and it looks great with those big tall factory stacks, but those motors will fall apart if you look at 'em sideways.
Still, they're highly treasured amongst collectors, and this was one built to attract attention. This 1468 had been restored and hot-rodded a little bit at the same time; the man selling it installed an M&W twin turbo kit (in and of themselves, very rare pieces; they go for $5-6K USED, if you're lucky enough to find them!). I learned a little about the guy who built this tractor, and I'm pretty sure that the motor itself had been properly beefed up in order to support the added air & fuel that those hairdryers need. Rodney is an old-school tractor puller, and he understands the phrase, "Power finds weakness!" This one was likely built to handle the extra power, too!
This beautiful International Harvester 1468 sold for $29,500 on June 2 at an auction hosted by my friends over at Girard Auction & Land Brokers. I'm not sure where it went, but I really hope that the new owner is having lots of fun with it!
4. A Dodge Bighorn with a big…horn?
At Tractor Zoom, we help auctioneers market more than just the traditional farm equipment (tractors, combines, tillage, and so on); sometimes we see interesting stuff like over the road semis. Such was the case with this 1975 Dodge Big Horn 950, sold by our friends at Hansen Auction Group on July 10.
Let's talk super-rare semis, shall we? Dodge only built the Big Horn for 3 years, and in total, only 261 of them (including prototypes). With the passage of time, the rare semi nerds out on the internet figure there's probably only about a hundred of these things left on the road, and this is one of them! This one was in beautiful shape and ready to work when it sold, too. At some point, I think somebody swapped in a different motor (it's got a big cam 855 in it now, which wasn't a factory option at the time), but everything else looks pretty original to me. This was likely the first Big Horn that's crossed the auction block in the last few years, and it definitely turned a few heads. It sold for $34,675, which is a pretty solid price for a semi that's nearly 50 years old!
5. That time a guy turned a Ford Ranger into a manure spreader…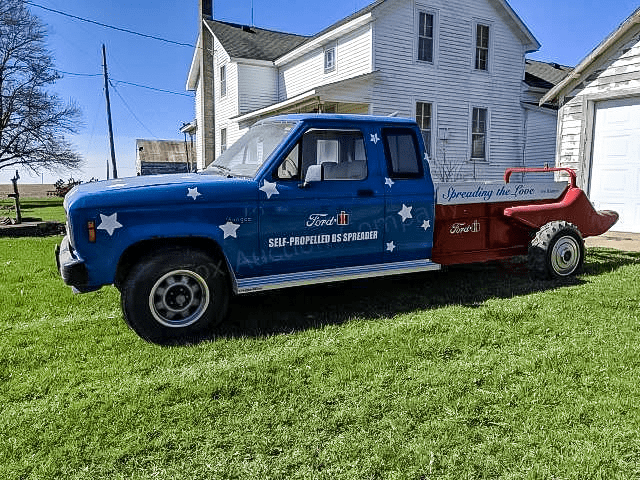 My friend Frank Fox sold what must've been one of the greatest pieces of "farm equipment" (and in this case, I use that term very loosely) we've ever seen go up on our site!
At first when I saw this Ranger-turned-manure-spreader, I started laughing just because of what's painted on the sides. The more I thought about it, though, the more I was impressed with the way that it was built. Fred Bissen, the man who built this thing, is about to celebrate his 100th birthday. Clearly he has a heck of a good sense of humor, and a solid engineering mind, too! If I hadn't had plans that Saturday, I'd have gone to the auction just to meet Fred!
It brought $1100, but I'll bet the entertainment value in the presentation was a lot higher than that. I bumped into Frank two weeks later at a tractor pull, and he told me that Fred loved driving it in local parades!
6. The very last of the John Deere 4000 gas Powershifts!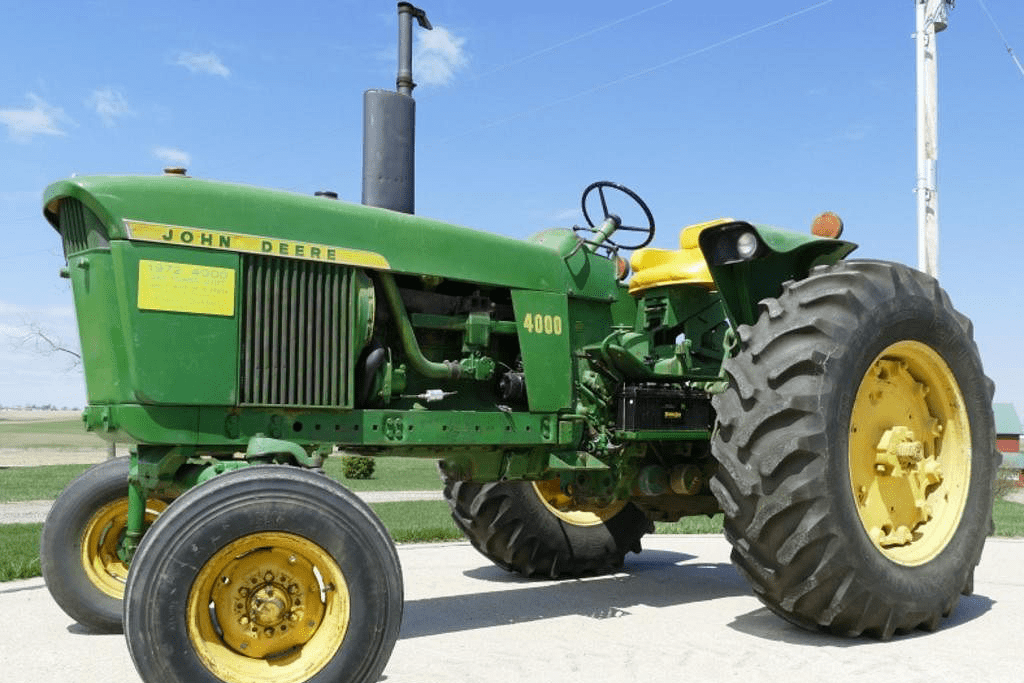 Our friends at Kramer Auction Service handled this auction on July 28, 2019.
Ernie Goebel loved God, family, country, and John Deere – and specifically, the 4000. His collection included 7 of them – and they were all significant in one way or another. The crown jewel of his collection was this Powershift gas tractor – the VERY LAST ONE of the 9 gas Powershifts Deere produced!
John Deere 4000s aren't super-common to begin with – and low-houred original tractors really catch the attention of collectors. Actually, a Deere collector from Missouri bawled me out because we'd spotlighted this auction! He wanted one and he was sure that Tractor Zoom's promotion would wreck his chance to get it cheap!
It turned out that he was right, too; this pretty 4000 brought solid money, hammering home at $64,500. Some people wondered why it didn't bring more; the last 4000 gas Powershift that crossed the block brought over $80,000! I think it was a mixture of timing (Sunday morning during vacation season) and a slowdown in the collector market. Still, nearly $65K is nothing to sneeze at!
December is a huge month for auctions and we've got more inventory listed than ever before! If you're looking for something for your operation in 2020, click here to visit Tractor Zoom and see what kinds of interesting equipment auctions are happening near you – and don't forget to sign up for the Interesting Iron email! I write about stuff like this every week!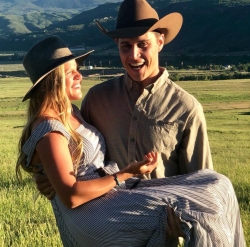 Kyle McMahon is the founder of Tractor Zoom and leads the company as CEO. As a 3rd generation entrepreneur, Kyle grew up with hard work and curiosity ingrained in his demeanor. Kyle and his Tractor Zoom team are 2018 award winners in the John Pappajohn Entrepreneur Venture Competition.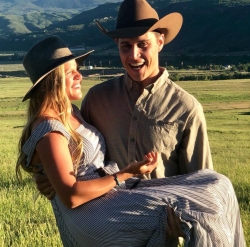 Latest posts by Kyle McMahon (see all)